So you're starting a business. Congratulations!
You've got a lot on your mind right now, no doubt. I'm here to tell you that you need to make some room in there to think about marketing. Not once your business is already established (if it is, you'll be fine, you just really need to read these tips!), not once you finally have some spare time. Like, yesterday.
Marketing is—and I'm not exaggerating—one of the main determinants of whether or not your business will succeed. How can people take advantage of your offering if they have no idea that it exists?
You may only know a little bit about marketing. You may not know anything at all. But there are plenty of aspects that you are capable of handling. The simple things, like getting business cards made or always being ready to give your elevator pitch, are well known, so we're going to dive a little deeper. We're going to talk about digital (online) marketing. Why? Because you need to reach people where they are, and people are increasingly spending their time online.
Here are the tips we'll cover in this post:
Develop customer personas
Invest in a quality visual identity
Create a website ASAP
Gain a basic understanding of search marketing
Set up a Google My Business account
Start a blog
Develop a social media presence
Start thinking about email
Get some positive reviews
Don't forget offline marketing
Before we dive in, you need a basic understanding of marketing. We know you're short on time, so we'll sum it up quickly. (For an in-depth explanation, you can check out our blog "What is marketing, anyway?") Basically, marketing is everything involved in creating a valid offering and then letting people know that it's available.
To set the record straight on a common misconception, marketing is not the same thing as advertising. Marketing encompasses the "4 Ps": Product, Price, Place, and Promotion (advertising). It's about putting the right product, at the right price, in the right place, at the right time. Promotion comes in because you also need to get the right information out through the right channels to the right audience to get them to pay any attention to it.
If you remember one thing about marketing, let it be this: marketing is about knowing your customers so that you can offer them something of value and communicate that value to them.
Because you presumably already have a business idea and maybe even a product, you likely have a good basic knowledge of who your target audience is. Now, how do you reach that audience?
Tip 1: Develop customer personas
Even if you already have a really good understanding of your potential customer in your mind, you should put it on paper and flesh it out as much as possible. This is where customer personas can help.
I like Hubspot's basic definition of a buyer persona: "A semi-fictional representation of your ideal customer based on market research and real data about your existing customers."1
When I first heard about customers personas, I thought they were kind of silly ("Why do I have to create a pretend customer to help me understand my real customers?"), but I've changed my tune after observing how they can actually impact targeting strategy.
Maybe you've identified demographic information (quantitative attributes: gender, age, income, location, job) about your customers, but pinpointing in-depth psychographic information (qualitative attributes: interests, pain points, values, personality) will give you even more actionable insight.
You see, knowing this information will help you discover how to target your messages to your audience AND which channels to send your messages through to reach that audience most effectively. So, yes, customer personas are useful for informing offline tactics as well as online tactics.
All of this will help you avoid blasting your message out into the world at random, which is a waste of time and money and often ineffective (not to mention an annoyance to those who aren't the least bit interested in your offering).
How do you create your buyer personas? Use your knowledge of your potential or existing customers and do some research. Hubspot has a great guide on this.
Tip 2: Invest in a quality visual identity
Okay, this isn't strictly a digital marketing point. But you need to have a solid visual identity to get started with and get the most out of the next steps, which cover essential digital marketing tactics.
You probably know that you at least need a logo for your business, but visual identity goes beyond that to include typefaces, icons, illustrations, photos, and color schemes. Essentially, your visual identity encompasses the basic elements you'll use to visually represent and communicate about your company on your website, in social media, through email, and elsewhere.
Remember: you get what you pay for. Your brand identity is an investment. For a unique, unforgettable identity, go to the pros. You'll be living with this identity for a long time (hopefully), so work with the designer you've chosen until you feel great about what you see.
Make sure to also request a brand guidelines document that sums up how to properly use all of the elements of your identity. This will help you communicate consistently about your business. A consistent brand helps raise awareness and build trust and loyalty among customers.
Tip 3: Create a website ASAP
Every business—large or small—needs a solid web presence in this day and age. Where do people find the product or service they're looking for nowadays? They search online. Sure, they also ask family and friends for their opinions, and they see ads on billboards, in magazines, and elsewhere that encourage them to visit brick-and-mortar stores, but 87% of shoppers now begin product searches online.2
Not only that, but as your business grows and your digital marketing expands, your website will act as the hub of your digital presence.
If you're worried about the cost of a new website, don't freak out. You can build an attractive and effective site all on your own, using an inexpensive tool such as Squarespace or WordPress.
Take another look at sites you remember liking and at your competitors' websites for some inspiration (and to gain ideas of how to differentiate yourself).
If you feel way out of your league and don't think you can manage, remember that your website is an investment. Hiring a professional web developer may be relatively expensive, but an effective site is worth the cost.
Excellent content plays a critical role in the efficacy of your website. If you're not confident in your writing abilities and don't want to shell out the money for a professional, consider hiring a friend whom you know is a good writer. Make sure all content is proofed by several people—spelling and grammar mistakes are easy to miss and come across as unprofessional. You can also use an affordable proofing tool such as Grammarly.
Once you have a site set up, you'll need some information about the attention it's getting. With a free Google Analytics account, you can track the number of visitors to your site, where they're coming from, what pages on your site are getting the most traffic, and more.
While you may not rely on insights from this data at first, I promise you'll find it invaluable as your company grows and your marketing efforts become more data-driven.
Tip 4: Gain a basic understanding of search marketing
Search marketing refers to Search Engine Optimization (SEO) and Search Engine Marketing (SEM), the most important digital marketing concepts you've (probably) never heard of. As mentioned, consumers are overwhelmingly searching for products online. SEO and SEM are all about getting your business and your offerings visible online.
SEO involves tactics for getting your website and its pages to rank higher in search engines such as Google. When searching, most people will not look further than the first or second page of the search engine results. That means that, ideally, you want your business to come up on the first page, or—even better—in the top three results. This can be extremely hard to achieve, but it's a little easier if you're a local business.
You see, Google tailors search results to the searcher's location. So, if you were to search "marketing agency," Google would spit out a "local pack" of marketing agencies near you first.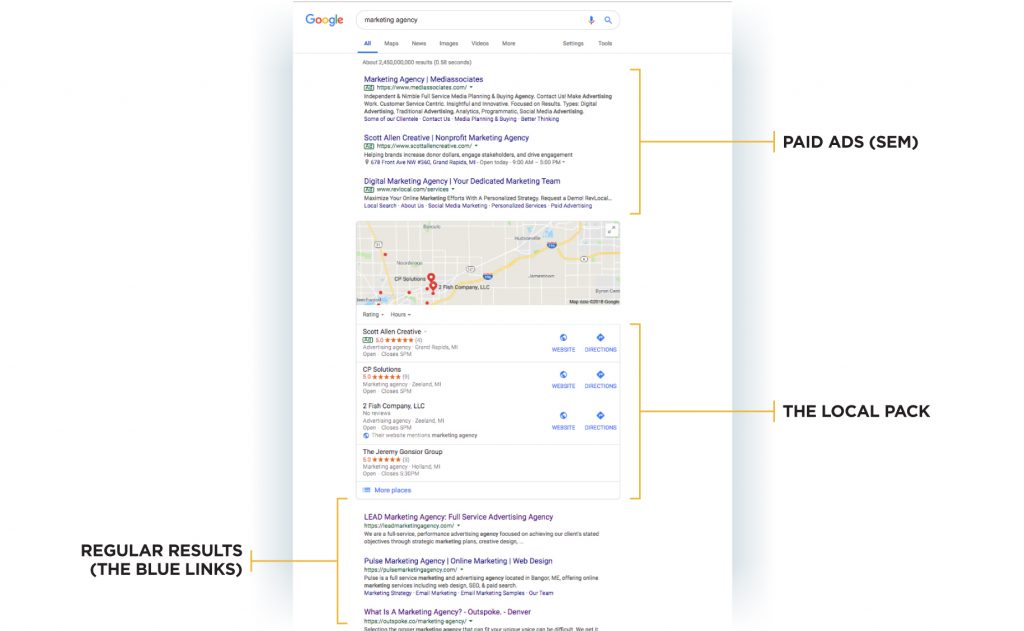 That means that while 2 Fish Co. may not be able to make it onto the first page of results when someone in California searches for a marketing agency, we will show up high on the list when someone searches in Zeeland, Michigan. (See Tip 5 for information on how to set up a Google My Business account, which you absolutely need and will help you appear in the Google Local Pack.)
Okay, so how do you go about getting your website to rank high in Google? There are technical aspects of SEO, which can be difficult to understand unless you have experience with websites. If you build your site with a reputable service such as Squarespace, you will have a decent technical SEO foundation.
You also need to consider keywords and backlinks. When ranking sites, Google and other search engines rely partly on keywords to determine if your site is relevant to a particular topic. So, do some brainstorming about keywords that are relevant to your business and offerings, and include them where natural in your website content and other content (blogs, social media posts). There are also plenty of free and affordable tools that can help you discover potential keywords to target, and this beginner's guide to SEO keyword research from HubSpot can get you started. The key here is to remember to write for humans, not for SEO. You will be penalized for "keyword stuffing," so don't just throw keywords anywhere possible.
You should also learn about website meta tags (like title tags and meta descriptions), which are other elements on your website that you need to optimize. There are many excellent resources online about doing so, and the website creation platform you choose should make it easy.
Backlinks are another element to consider for SEO. A backlink is a hyperlink on a website that links back to a page on your website. You'll find it's easier to target keywords than to gain backlinks, which makes keyword optimization a good place to start when it comes to search marketing, in my book. You should at least know that backlinks from quality sites are an important factor in your site's ranking. Here's a guide on how to pursue backlinks, or you can hire an SEO professional or firm to help you.
SEM is also about gaining visibility in search engines, and more website traffic as a result, though it's different from SEO because it deals with paid advertising. While you may not want to devote resources to it immediately, you should at least know that it exists and consider adding it to your marketing strategy in the future.
For more information about SEO, look no further than Moz's Beginner's Guide to SEO.
Tip 5: Set up a Google My Business account
The Google local pack shown in the previous section is made possible by Google My Business.
Moral of the story: Want to show up in the Google local pack? Get a Google My Business account. Google My Business is a great way to get started with local SEO, and it's entirely free. Read Hubspot's Ultimate Guide to Google My Business for all of the information you need about setting up and optimizing your account.
Tip 6: Start a blog
Blogs are still important, even if it seems like there are so many out there that there couldn't be anything more to say on any topic within any subject.
Blogs kill a lot of birds with one stone. High-quality blog posts help you establish expertise in your industry, drive people to your site, get seen by and ranked higher in search engines, and offer valuable information to your audience.
While the benefits of establishing expertise, driving more people to your site, and improving your SEO are self-explanatory, let me dive into why you want to offer valuable information to your audience.
As discussed, marketing is all about knowing your customers (your target audience) and treating them right. How do blogs help you do that? Well, here's an example. I just bought a DSLR camera. I'm way out of my league with this thing. I'd be hopeless if not for all of the photography blogs online. When I read a particularly good or helpful blog, my trust in the provider of the blog increases. If I have another question, I'll probably go right back to them before searching elsewhere for an answer. I'll also be more likely to purchase products or services from them because they know what they're talking about and have offered me quality in the past.
If you keep posting high-quality content, keep providing people with value, they'll keep coming back.
What value can you offer? Think of your customers' pain points. How can you help solve them? For instance, as a marketing agency, we know that getting started with marketing can be daunting to new businesses. There's so much to know and so many ways to go about it the wrong way. That's why we put together this blog post!
Blogs and other types of content marketing are great because they can be free if you do it yourself (though we all know that time equals money). It should be relatively easy for you to set up a blog page on your website created through a do-it-yourself tool like Squarespace of WordPress. Once you have it set up, post regularly on your blog about topics related to your industry.
As with any marketing content, make sure your blogs are well-written and proofed. For guidance on how to actually figure out a topic for and then write and format your blog, turn to Hubspot's step-by-step guide on how to write a blog post.
Take note that blogging probably won't drive a whole lot of traffic to your site at first. It's a longer-term strategy. Keep it up, and point people to your blog posts through social media and email too.
Tip 7: Develop a social media presence
The number of worldwide social media users is expected to reach nearly 3 billion by 2020.3 In 2017, 77% percent of the U.S. population had a social media profile.4 People are on social media, so you need to be too.
Social media has changed a lot in recent years. Efforts to increase user privacy and improve the user experience have transformed how businesses interact with their audience on social media. Businesses used to be able to reach their audience organically (without having to pay), but that is no longer the case. Now, paid social advertising is the best way to go about getting engagement and conversions.
Social advertising, especially on Facebook (in our experience), is one of the most affordable ways to reach a highly-targeted audience.
While you may not want to consider paid advertising on social at first, you need to at least get started with social profiles, which are completely free. Set up business accounts on the major social platforms: Facebook, Instagram, Twitter, and LinkedIn. Depending on your business, you may also consider Pinterest, or other smaller, more niche platforms.
Decide on a posting cadence. Maybe just two posts a week on each network makes sense. Even just one a week is a start. It'll get easier as you go, and there are endless topics to post about. Remember, quality over quantity. Do your best to put out highly-engaging content. (Video performs especially well.) You can also rely on free tools like Canva to make sure your posts are properly sized and visually appealing.
Don't be discouraged if you don't see the number of likes or new followers that you were hoping for. The changing social media landscape is making it harder than ever for businesses to see quick results, especially through organic posting.
Know that your efforts are not wasted, as having active social profiles still does you good. It lets people who stumble upon your pages know that you're alive and active, and if they want to learn more about you and your company than they can on your website, it gives them the ability to do so.
To jumpstart your social pages, invite your friends to follow you and ask them to share!
As always, you can turn to good ol' Hubspot for help with social media. Check out their blog post "The Ultimate Guide to Social Media Marketing Campaigns".
Tip 8: Start thinking about email
Let's talk about email. We just spent a lot of time talking about other, newer digital marketing tactics. You may be thinking, "Isn't email old fashioned? Do I really need it?"
One hundred percent yes.
Email is still THE most effective marketing practice out there (according to 2018 data)5. But there are many ways to do it wrong, so be careful to read about email best practices.
How can you get started? First of all, begin to build your email list as soon as possible. How do you do so? Well, first off, I encourage you NOT to buy an email list. Buying lists can be disastrous for your email marketing.
The key is to only email people who expressly signed up for your list. The hard truth is that building an email list takes time and doesn't happen by accident. Here are 29 ways to grow your email list.
Once you have people to send emails to, how do you start actually sending out emails? A free and helpful service such as MailChimp will be invaluable for helping you email everyone on your list and keep track of list health too.
What should your emails be about? How often should you email? Check out "A Beginner's Guide to Successful Email Marketing" from Neil Patel. In general, the same "quality over quantity" rule that applies to all marketing content applies here. Avoid sending emails just for the sake of sending emails; instead, make sure your emails are saying something that your contacts will find valuable. Whether it's a monthly newsletter, messages about new products or deals you're running, a heads up about a new blog, or something else, keep your message short and sweet.
In the future, you could consider investing in marketing automation. Marketing automation software helps you, well, automate marketing tasks that have to do with email as well as social media, your website, and more. You should wait to consider marketing automation until you're generating a steady flow of new leads and you and your sales team are overwhelmed.
Tip 9: Get some positive reviews
Good reviews are one of the most influential marketing tools you can have.
According to Nielsen, 92% of customers around the world say that they trust earned media, such as word-of-mouth and recommendations from friends and family, above all other forms of advertising.6 That was back in 2012, and I can only imagine that percentage has stayed the same if not grown.
Maybe you already have an idea of who you could ask to give you a review. Ask them to review you on Facebook and Google, and consider setting up Angie's List and Yelp listings. You can also highlight positive words from reviewers on your website.
Even if you don't have reviews yet, you're bound to get plenty as long as you treat your customers right. Plus, your happy customers may also mention you to their friends and family, sending even more leads your way. Treating people right just makes sense.
Tip 10: Don't forget offline marketing
Hah! Tricked you! Not all of these tips are about digital marketing.
While online marketing is crucial and only becoming more important, offline tactics are also necessary and relevant. By engaging with your customers both on and offline, you'll get your message in front of them more often and become more memorable.
Here are some traditional marketing tactics you'll definitely want to consider. Down the line, there may be more involved and expensive tactics (like billboards, event marketing, or direct mail) that you wish to leverage.
Print: You still need print materials such as brochures, leaflets, and business cards. You may be able to design them yourself nowadays, but don't be afraid to turn to the pros for professional-quality pieces. Print materials allow customers to physically connect with your brand, making it more memorable. You can also drive people to your digital channels through print. Include information on how they can sign up for your email list, or direct them to your social media pages.
Swag: You can also consider ordering some tchotchkes to hand out. A nice pen or water bottle? Slam dunk. Just like print materials, they'll keep you fresh in the mind of your contacts, and they're even more likely to be kept around for a while. Plus, they'll help you foster a positive relationship with contacts.
Press Releases: The idea of writing a press release might freak you out a bit, but you can do this! A spot in your local paper or online journal could do wonders for awareness about your business.Remember, your press release has to be newsworthy to have a chance of being picked up by the media. So, write a release about your brand new business, or, if you have a good angle, a feature about your background and how it led you to become an entrepreneur. Make sure to do your research about how to actually write a good release (get ready to learn about inverted pyramid!), and read plenty of news stories to become familiar with how journalists write. You can also check out examples of press releases on distribution sites like PR Newswire to learn how to format your release (there are a lot of nitpicky rules). When it comes time to send out your release, do some research on which journalists to send it to (target those who follow the business beat) and how and when to send it. Check out Neil Patel's 12 Ironclad Rules for Issuing Press Releases.
Hand Shaking: I leave you with this final tip: Networking is a powerful way to grow your business, so don't be afraid to get out there and shake some hands or make some cold calls!
Phew. You made it to the end. That's a lot to take in! No doubt you already have questions, as we in no way covered everything. As you're getting started promoting your business online, you'll have questions all of the time. What information should I have on my website? At what time should I send my emails? And on what days? How often should I post on social media? How can I figure out which keywords to include in my content?
Thankfully, you can rely on the internet for answers to a lot of your basic questions. Find marketing blogs that continue to pump out helpful content so you can be inspired all the time. Plus, feel free to email us with the topics you'd like to see covered on our blog! Best wishes!
Download our "10 Tips" e-book here.
Sources
SHARE IT!