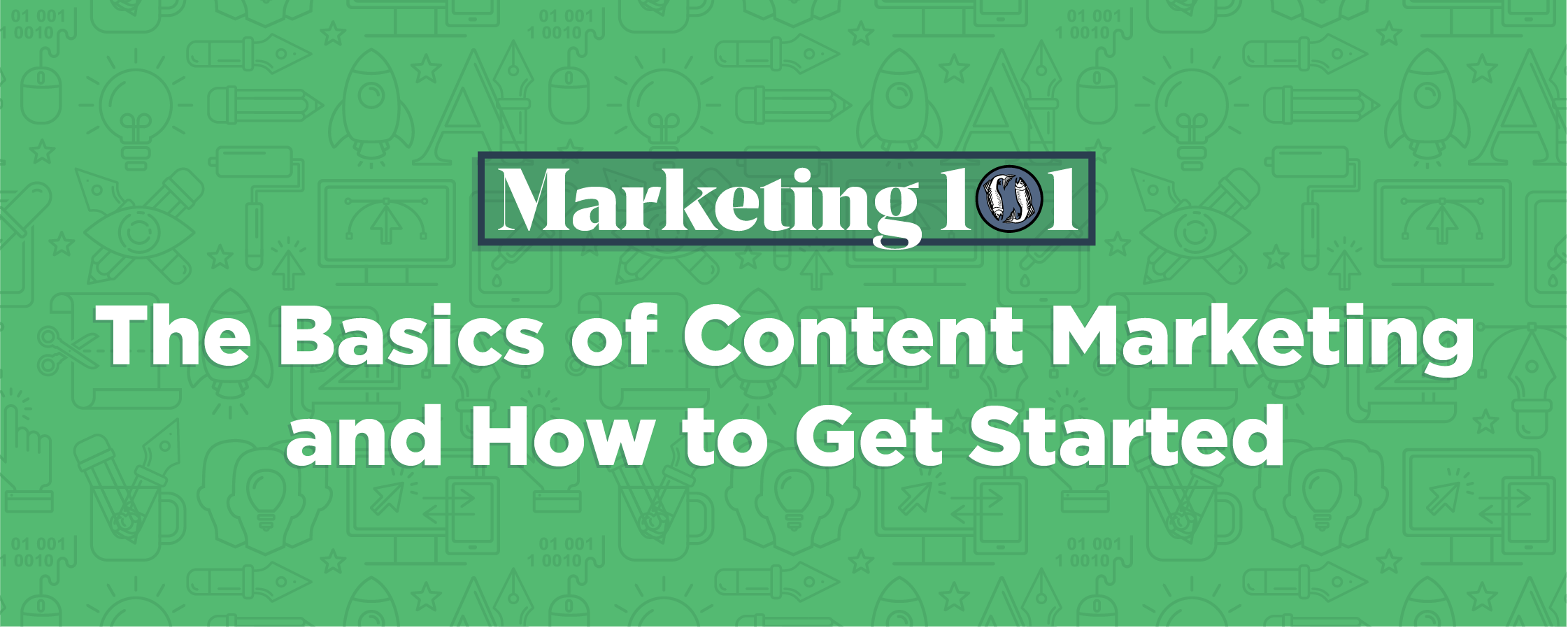 Each minute, over half a million tweets are tweeted. About 10 million blogs are posted and 300 billion emails are sent every twenty-four hours. It's estimated that we see over 4,000 ads per day. It's a noisy world out there!
How can you get seen amid the hubbub? And not only that, how can you set your product or service apart enough to keep someone's attention?
Effective marketing is multi-faceted, but content marketing is an essential component of reaching your audience in the modern era.
ABOUT CONTENT MARKETING
We're going to give examples of content marketing, but first, we're going to explain what content is—and how it's different from copy.
Copy is what you might think of as typical marketing text. It's designed to drive people to a specific action, such as a purchase. The text in a search advertisement or on a product web page is copy.
Content is information with a higher, longer-term purpose. It educates and informs, providing value to the reader and not overtly selling anything. A blog that addresses your audience's pain points and helps them solve a problem is content.
Content marketing, then, is using valuable information to stimulate awareness of and interest and trust in your product but not explicitly promote it. It's a long-term strategy rooted in knowledge of your audience and based around what is relevant and useful to them in their specific stage of the Buyer's Journey. It's a growth tool; good content keeps people coming back.
While content marketing has gained considerably more buzz in the last decade or so, it is not a new tactic. Poor Richard's Almanack, first published in 1732, is oft-cited as the first example of content marketing. John Deere's magazine The Furrow, launched in 1895, is another popular example. So why has content marketing been exploding in popularity? Because customers are inundated with marketing messages, and businesses need to set themselves apart by providing value instead of adding more noise. Of course, in the digital era, content marketing looks a bit different. (Though traditional mediums like print magazines still apply.)
THE BENEFITS OF CONTENT MARKETING
With so many companies out there, each one has to try to differentiate itself. The one that provides the most value to customers will have a strong position. As the Content Marketing Institute says, "[content marketing is] the best way to turn your product, no matter how common, into something that is not like everyone else's."
Content also helps get your company or product noticed. A major value of strong, authoritative content on your website or blog is that it can improve your search engine optimization (SEO), helping you rank or improving your ranking for relevant search terms. This is crucial, because the first place many people look for information is online.
Once you get audience members attention through paid, owned, or earned distribution channels, you can provide value that inspires them to trust you and keep coming back for more.
THE CONTENT
At this point, you might be wondering, "So what does content marketing look like in practice?"
It can take many forms (and be distributed digitally or in traditional print), including:
Apps
Blogs
eBooks
Infographics
Videos
Podcasts
Case Studies
Social Media
Magazines
Quizzes
But content marketing transcends medium. Not all blogs, social media posts, and infographics qualify as content marketing. It's really about the type of content. As Neil Patel says, content marketing is about "long-term strategy that focuses on building strong relationships with your target audience by giving them high-quality content that is very relevant to them on a consistent basis."
Let's break that down. Content marketing must be:
Long-Term: Content marketing is not designed for short-term results. It's a lead nurturing strategy.
High-Quality: Creating good content as part of a content marketing campaign is an investment. If it's cheap and easy, it's probably not going to set your business apart and keep your audience engaged.
Relevant: The foundation of content marketing is providing valuable content. You must know your target audience exceptionally well and be able to address their needs with your content. You've also got to keep in mind the different stages of the Buyer's Journey and how you can provide value across them.
Consistent: One-off content marketing won't lead to growth. To keep your audience engaged and thinking about your business, you need to be consistently communicating. As always, quality trumps quantity.
If your content marketing strategy does not meet those criteria, you might just be adding to the noise.
CONTENT MARKETING IN ACTION
Here are examples of content marketing in action in both business-to-consumer and business-to-business contexts. We give separate examples for B2C and B2B because approaches have to be different. Consumers have a different intent than businesses when purchasing. Also, the B2B buyer's journey is typically much longer, requiring more nurturing.
Source: https://neilpatel.com/blog/the-definitive-guide-to-b2c-content-marketing/
We'll start with an example of B2C content marketing strategy, because that's likely what you're already familiar with. Let's say you buy a new mountain bike. Now you have to learn the ropes of biking and bike care. You're online a lot, researching. One company, in particular, has been extremely helpful in providing the information you need, including a blog and video about mountain biking techniques for beginners, a ranked list of the best bike bags, and an eBook on bike care and cleaning. This company sells outdoor gear, clothing, and accessories—it is not a biking information site. So why are they providing you with all of this helpful info? Because they want to build a strong relationship with you by providing you with high-quality, relevant content on a consistent basis. The next time you're looking for a bike cleaning product or a cycling jersey, that company will be top of mind. Its content, like that list of bike bags, may also trigger a quick purchase.
B2B content marketing can be a bit more complicated, in large part because of that longer sales cycle, but the same basics apply. A great example of a B2B content marketing machine is HubSpot. The marketing automation platform is recognized as a major hub of marketing information, from its hundreds of blogs on topics like customer personas or lead nurturing, to its ad spend calculator, to its many eBooks—and beyond. HubSpot knows that its audience of marketers is always in search of the latest marketing information, so it provides valuable marketing content wherever it can. This content will not trigger an immediate purchase of HubSpot's expensive software, but it does help nurture leads over a period of time and get them into the sales pipeline.
HOW TO PLAN CONTENT MARKETING STRATEGY
We hope you're getting excited to start creating content. But we urge you not to create anything outside the context of a marketing plan. Content marketing cannot succeed in a vacuum; it must be leveraged alongside and in cooperation with your other strategies.
Content marketing can take a lot of time and resources, so make sure what you're producing will help you work toward specific goals. You should also have a specific content marketing strategy that covers:
Your Goals: Set content marketing goals that will help you achieve the broad business goals in your marketing plan. Then you'll be able to devise campaigns—in a cross-channel context—that contribute to those goals.
Your Customers: Draw from the customer personas you included in your marketing plan. Isolate pain points you can address in your content. Keep in mind the different needs of your customers at different stages of the Buyer's Journey, and how you can use content to nurture them along the journey.
Your Content: What value will you provide to your audience?
Your Mediums: Which types of content will reach your audience? Decide how you plan to package your content. Can it be repurposed? For instance, can a blog also be boiled down into an infographic?
Your Channels: Once your content is ready, how will you distribute it? Which paid, owned, and earned promotion tactics will you leverage?
Your Schedule: What needs to happen and when to maintain consistency?
Your Tracking: How will you be able to tell if what you're doing is working?
CONCLUSION
Ready to get started? Remember that content marketing should feel like work. It takes time, and it probably won't cause a massive spike in profits right away. But it's still worth the effort, one hundred percent. (Want proof? Check out these case studies!)
As you begin planning your content marketing campaign, we invite you to reach out with any questions you may still have!
---
Be sure to check out more Marketing 101 content and subscribe to be notified right away when new content is released!
Remember, you can always submit questions for us to cover!


SHARE IT!