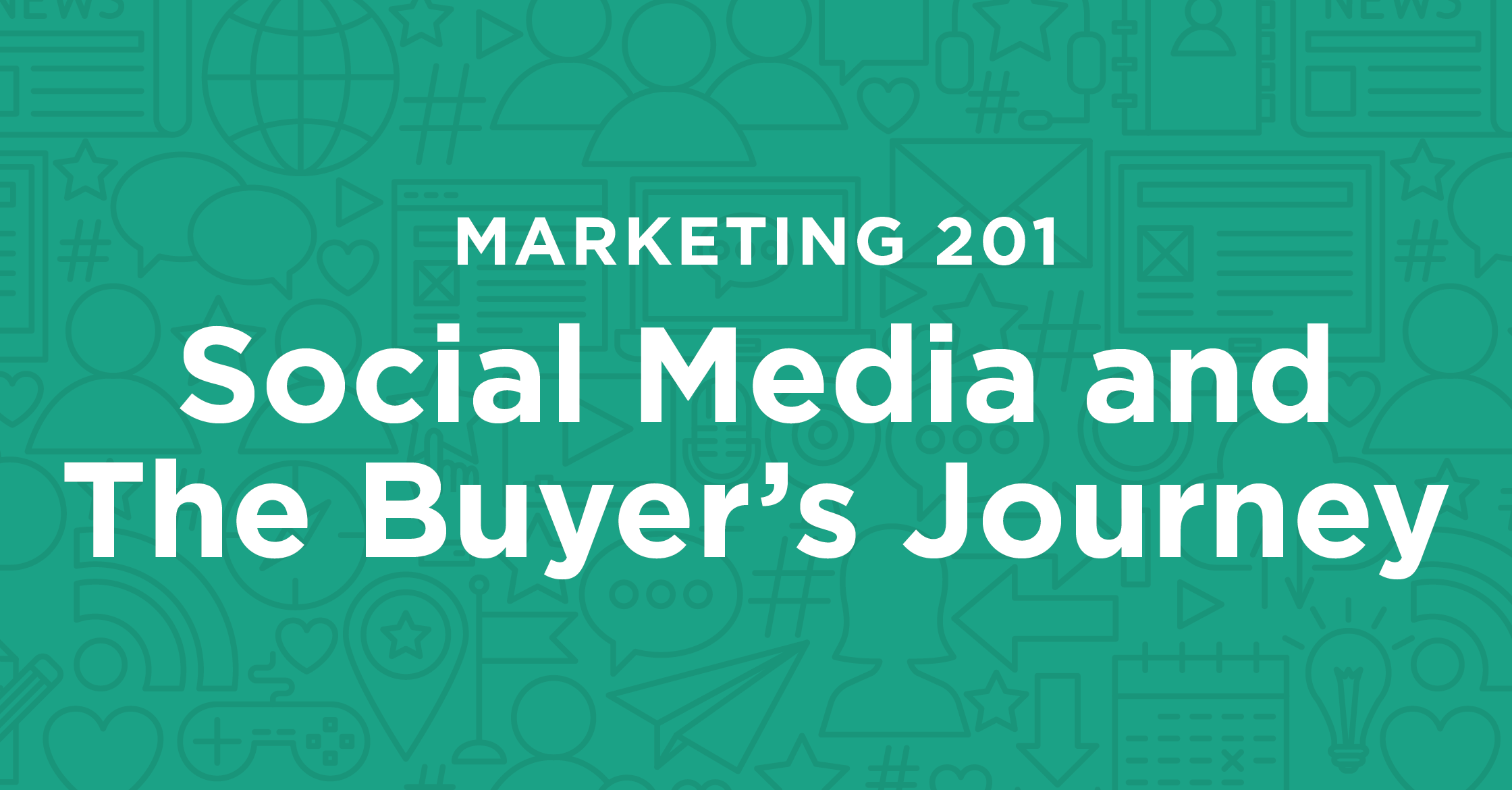 Social media can be a lot of fun. The spontaneity, the ability to show your brand's personality to the world, the opportunity to engage with all of your audiences.
But it's not all fun and games. An effective social media strategy takes—I'm sorry, I have to say it—deliberate planning.
I know, I know, that takes some of the fun out of it, right?
While it may take more time and effort, planning around the stages of the Buyer's Journey can help you reach members of your audience with the right content at the right time. Ultimately, that can mean a much more engaged social audience and more sales. Now that sounds fun!
The Buyer's Journey and Social Media
There are several different models of the Buyer's Journey. The most simple ones reference three main "steps" to a purchase: Awareness, Consideration, and Decision. Many modern marketers take issue with this somewhat rudimentary explanation of the nuanced process of learning about, becoming interested in, and finally deciding to buy something. I'm going to stick to the basic version to speed things along.
Note that the Buyer's Journey is shown linearly at its most basic, but it's also commonly shown from the sales and marketing perspective as a funnel and, more recently, a flywheel.
The basic steps of the Buyer's Journey. Source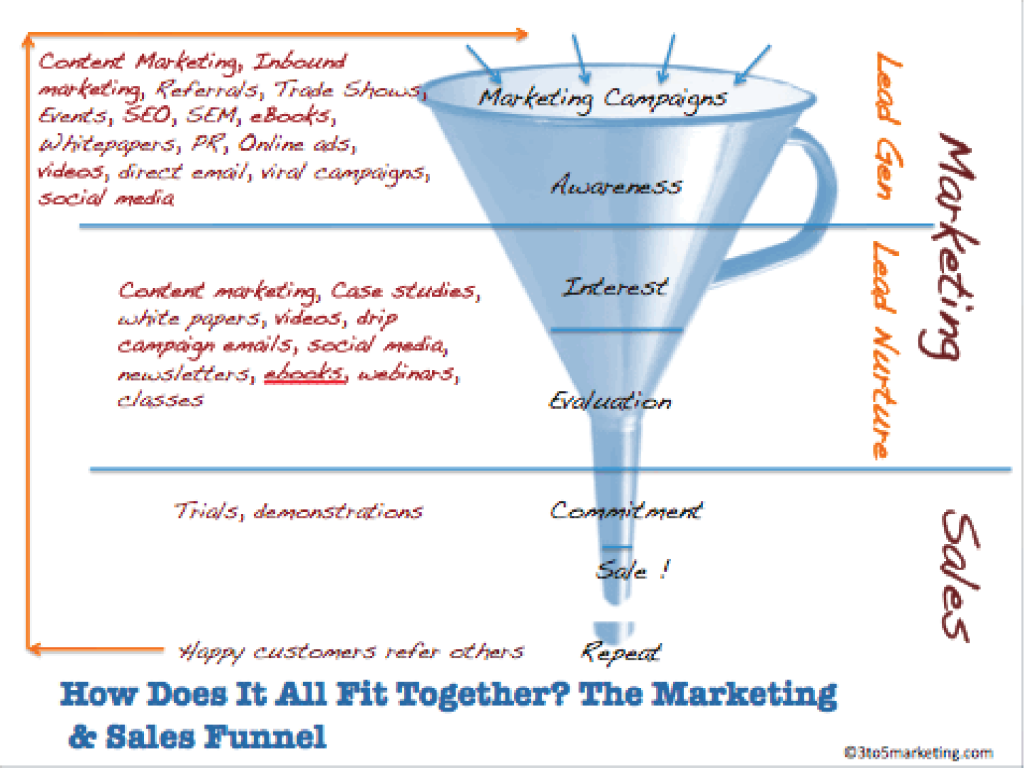 The Marketing Funnel. Source
Here's the point of this blog: You've got to purposefully craft your social media content so that it meets your customers where they are in their particular stage of the Buyer's Journey. You'll have potential customers from every stage of the journey looking at your social channels, so you've got to have something for everyone!
Would an ad for a product you've never heard of and have no understanding of (meaning you're probably not even in the Awareness stage yet) that simply says "Buy Now" (Decision-level content) get you to convert? Probably not. It doesn't mean anything to you!
By planning social media through the lens of the Buyer's Journey, you can create messaging that resonates with followers in a particular stage and then target that messaging specifically to them.
Awareness Stage
Main Objective: Gain Attention and Generate Interest
Metrics to Watch: Engagement (Likes, Shares, Comments), Follows
In this stage, you're working to attract new contacts and create interest. You've got to focus on content that shows them you exist and tells them what you offer (and how that offering can solve a need that they have).
Approach: Content must be entertaining and engaging, catching your audience members' attention and starting to forge a connection with them. You could share a helpful blog post, engage with an influencer who is prominent in your industry, or join existing conversations relevant to your product using hashtags. The main idea here is to LAY OFF THE PROMOTIONAL CONTENT. That'll be helpful in the later stages.
Social Content Ideas (what to talk about, leverage in social posts or ads): Ebooks, Curated Content, Blog Posts, Brand Personality Content
Consideration Stage
Main Objective: Educate and Persuade
Metrics to Watch: Visits To and Form Fills, Email Subscribes on Social-Connected Landing Pages
Now that your audience member knows about you and you've piqued their interest, you've got to show them why you're the best choice for their needs. You've got to turn them from followers into potential customers. Start lead gathering so you can send more targeted info.
Approach: Provide useful, actionable content that's targeted to your buyer personas. Start gathering your audience members' info and learning about them so you can provide them with the targeted content they're interested in. For instance, you could create a piece of high-value content, such as a guide. You could then run a social media ad for that guide, driving interested parties to a landing page. With a form on that page, interested parties could choose to give you their contact information if they enjoy the guide and want to hear more from you. With their basic contact info, you'll be able to follow up and send more information relevant to their interests. Remember, the further "down the funnel" (closer to the decision point) the information is, the more targeting you want to do to ensure you're reaching the right person with that message.
Social Content Ideas (what to talk about, leverage in social posts or ads): Competitive Comparisons, Guides (related to your product or industry), In-Depth Videos, Testimonials, Case Studies
Decision Stage
Main Objective: Trigger the Purchase
Metrics to Watch: Sales!
Time to seal the deal. Your potential customer knows you, knows how you can help, and just needs to click "Buy." Track socially-connected conversions through website pages or landing pages.
Approach: Send out targeted, personalized communication that encourages contacts you've formed a relationship with, and who have already expressed interest (in the Consideration stage), to buy now. Leverage special offers, social proof, and more in-depth product info, which will be palatable at this stage. (If you share this earlier, in the Awareness stage especially, followers may feel like you're shoving promos down their throats rather than providing helpful info they're interested in.) For example, you could run a social ad using pixel data to reach people who have already visited your landing page and downloaded your guide.
Social Content Ideas (what to talk about, leverage in social posts or ads): Promos, Free Trials, Consultations, Case studies
But, Wait! There's More! (The Fine Print)
The Buyer's Journey is simply a framework for crafting and targeting marketing communications. It's not prescriptive; it's just a helpful way of thinking about the information your customers want to know and when.
Keep in mind:
Any reputable marketer will tell you that "Decision" is ideally not the last step in the Buyer's Journey. You want to forge lasting customer relationships. It's no secret that new customers are much more expensive to attract than existing ones! Don't abandon your social followers once you've made a sale. Brand loyalty and continued growth are the name of the game.
There may be overlap between the stages. Engagement content may also be beneficial in the other stages, for example. Feel free to shoot out a spontaneous post about the office dog, even if you've already perfectly planned your cadence of Awareness/Interest/Decision content for the month.
Monitor and measure! Always be listening to your audience. If something's not performing, it's time to change things up.
Social is not an island. Digital marketing is interconnected. A good social strategy is integrated with other aspects of digital marketing, like landing pages and your website.
Have more questions about social media, the Buyer's Journey, or how they relate? Let us know, and we may cover them in our next blog!
SHARE IT!