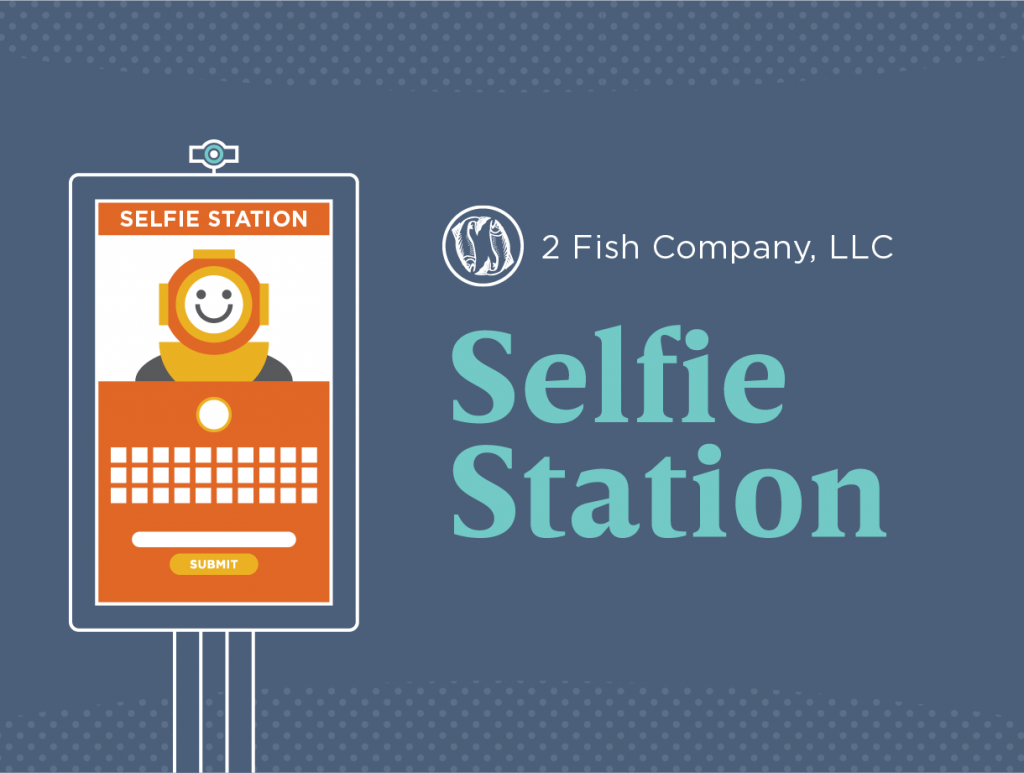 What are selfie stations?
Selfie Stations can be the perfect addition to any event. Weddings, work events, fundraisers, and parties can all benefit from utilizing these stations. They serve a bigger purpose than just taking a picture. Selfie stations create a positive experience that will ensure your event is memorable.
Taking selfies is a new trend that has contributed to the reinvention of traditional-style photo booths. Wave goodbye to old-school booths, which can be heavy, bulky, and unsightly. New and improved selfie stations incorporate an open-air setting, which makes them portable, attractive, and approachable. Guests can see their fellow event-goers enjoying the selfie station and feel encouraged to try it out themselves. With a selfie station, there may never be another dull moment at the event that you worked so hard to plan.
People have fun while they use selfie stations. Studies show that smiling is good for you and that people are happier when they are smiling. These stations can help bring energy and life to your event. A selfie station may be the centerpiece that you never knew your event needed!
The benefits of selfie stations
The first reason why you may want to include a selfie station in your event is that they are highly interactive. Networking at events can be uncomfortable, and selfie stations are excellent icebreakers. As a line begins to form at the station, it will give people an opportunity to mingle. The shared experience of smiling and laughing while using the funny props at the selfie station will create the ideal environment for meeting new people and building connections. Not to mention that people hate being forced into taking awkward photos. With a selfie station, guests are able to decide when they want to take a photo without feeling any pressure. Plus, the "designated photographer" within every group of friends now gets to be in the photo too.
A second benefit of selfie stations is that they present an easy branding opportunity that can leave guests thinking about your business long after your event is over. In today's culture, customization is a major trend. You can help market your business by incorporating your company's custom logo on the station or by using a trendy hashtag for social media users to attach to their picture as they share it with their followers. Your guests will become ambassadors to your brand when they post their pictures on social media. This unique customization can help spread the word about your company.
Another benefit of selfie stations is that they are trendy and unique. Selfie stations are fashionable, and their professional appearance will impress everyone. In addition, the collection of selfies from your event will give your company a fun and genuine human image that is relatable, as opposed to standard corporate photos that can be boring. Your current and future clients will see people enjoying themselves at your events and will associate that positivity with your business.
The fourth reason why your event could benefit from using a selfie station is that they are an easy-to-use alternative to photo booths. An on-site team will set up the station for you and provide an attendant to assist guests throughout the duration of your event. Many stations are capable of creating high-quality photos that people will actually use, and some immediately provide guests with their pictures by sending them instantly via email or text. The random selfies that people take with their phones in front of your company's wall or logo might not be the type of advertising you want. The professional technology of the selfie stations will help you ensure that quality pictures are the ones posted on social media.
Finally, selfie stations also provide guests with a keepsake that will remind them of the fun they had at your event for a long time to come.
Selfie Station Observations
Here at 2 Fish Company, we have noticed the new selfie station trend and have recognized the value that it can bring to different companies and events. This is due to the fact that we have seen our own selfie station in action and have had a firsthand glimpse of the excellent results. Recently, Downtown Kalamazoo hosted their annual salsa competition, which promotes various restaurants in the area, and they added our selfie station to their festivities.
The selfie station was positioned next to the entrance of the venue, so people could begin their salsa adventure with a photo. Friends, families, and people of all ages were eager to test out the selfie station and were excited to have their picture taken.
The selfie station added even more energy and laughter to the event, and guests were happy and eager to participate. One guest stated, "This is the best creation ever!" The selfie station trend is here to stay, so it may be time to hop on the bandwagon!
SHARE IT!