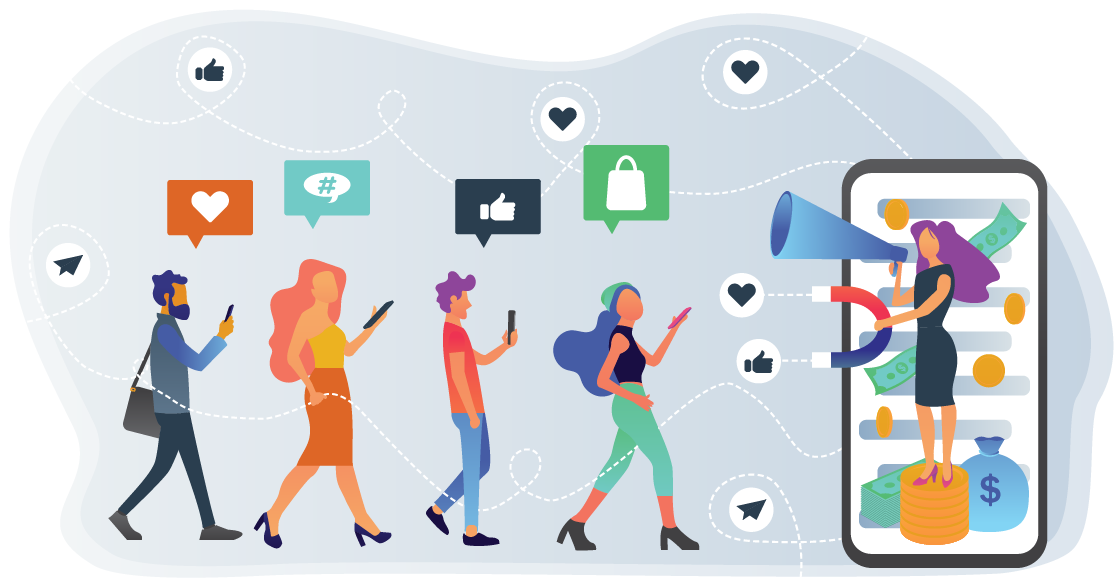 What is an influencer?
An influencer is a person who has a platform to influence or recommend products or services to an audience. Influencers show potential buyers their loyalty to a brand and emphasize that the company's products are worth purchasing. In our society, as consumers, we want to look at reviews of products or services before we make a purchase. Influencers create videos, images, and blogs to review these items, providing us with trustworthy (to varying degrees, depending on the influencer and their connection with a company) opinion.
Influencers have benefited the marketing industry by bridging the gap between what a company tells its consumers and what the customer experiences. In the past five years, the use of influencer marketing has significantly increased. In 2019, the industry was valued at $9 billion and by 2022, it is expected to grow to $15 billion.
Types of Influencers
Within the social media influencer industry, there are four different types of influencers.
Nano-influencers are influencers who have fewer than 10,000 followers. These individuals tend to be more localized in a specific community or region. They are most likely "normal" individuals (not celebrities) that are lifestyle bloggers and promote local businesses. An example of a nano-influencer is @grandrapidsgirl. She has 7,000 followers. She is a lifestyle blogger who documents local community events, stores, and restaurants in Grand Rapids.
Micro-influencers are influencers that have between 10,000 to 100,000 followers. These individuals are specialized and have expertise in a specific industry. They can impact a larger audience when they are working for bigger brands, and on the other hand, they can also impact a more specific audience based on location or industry. Micro-influencers are a lot more affordable than macro-influencers. An example of a micro-influencer is @rick_poon, who has 75,4000 followers. Rick Poon is a photographer and travel influencer who works with Hawaiian tourism.

Macro-influencers are influencers who have between 100,000 and one million followers. These influencers are usually travel bloggers, YouTubers, and everyday individuals. They have high engagement rates and are more affordable influencers compared to celebrities with millions of followers. An example of a macro-influencer is @tmartn with 576,000 followers. Trevor and his wife get paid by Royal Caribbean and many other resorts to travel the world. They go on vacation and shoot footage as well as vlogging their trip.
Finally, mega-influencers are influencers who have more than one million followers. These influencers tend to be celebrities or pro athletes. A mega-influencer is typically what a person thinks of when they think of an influencer. These individuals are very expensive to hire but have a large and devoted audience all over the world. An example of a mega-influencer is Kylie Jenner, who has 269 million followers. It is rumored that Kylie Jenner is paid $1 million per sponsored post.
Is Influencer Marketing Expensive?
There are many misconceptions when it comes to how much influencer marketing costs. Many people think it is quite expensive, but there are different options for how an influencer can be paid. Some companies give products to influencers for free in exchange for a post or review. The influencer doesn't necessarily get paid in cash but is given the products at no charge. This could include clothing, makeup, shoes, vacation, or even dinner.
On the other hand, it is common for influencers to be paid. The rate varies depending on the number of followers the influencer has, the number of likes a post accumulates, and which platform or platforms the influencer is using. Today, Instagram, YouTube, and TikTok are the most popular for influencer marketing. According to Hootsuite, the average formula for how much an influencer is paid is $100 x the number of followers + extras = total rate.
Benefits of Influencers
One of the many benefits of influencer marketing is the ability to reach a wider audience. Influencers can help businesses reach people outside their existing audience. Companies can show their products and services to wider audiences all around the world. Companies can even use influencers to sell their products to many different countries or encourage individuals to travel to the other side of the world. Since mega-influencers have so many followers, the odds of their content reaching around the country or even world is quite high.
Another benefit of leaning on influencers is the opportunity to reach a more specific audience. Many social media pages or even television channels have a narrowed audience that can target a specific customer. For example, if Nike wanted to promote a new clothing line, they would want to use influencers that are professional athletes or popular healthy lifestyle thought leaders- people with followers interested in fitness. Specific locations can also use local influencers to spread the word about events, restaurants, and stores.
The most important benefit of influencer marketing is social proof. Influencer marketing gives a company's audience proof that their products are valuable by showing that someone who is respected and look up to is using those products. Influencers give testimonials and product or service reviews about what they enjoyed about the products. In our world today, potential buyers want to know what they are getting before they make a purchase. Influencers can show how a product works or how a piece of clothing fits. Customers trusts influencers and rely on them for their feedback.
Brands with strong influencer marketing
Many brands utilize influencer marketing. Nike without a doubt has a strong influencer presence. The brand sponsors professional athletes, college athletes, and teams by providing equipment and clothing. Michael Jordan is one of the biggest influencers for Nike. They even created the Air Jordan clothing and shoe line in partnership with him.
Hello-Fresh is an online company that delivers groceries directly to your door. Influencers for Hello-Fresh are mainly on Instagram, Facebook, and TikTok. These individuals with a large following promote healthy, affordable, and easy meals. Influencers post videos unboxing the groceries, showing potential customers what is included and how to cook the meals. With the sponsored posts, there are usually promo codes and discounts if the viewer uses the influencer's name.
Curology sells skin care products to cure acne. This company uses influencers who have suffered from acne to promote their products. The influencer shares their story and how Curology's products have cured their skin blemishes. This company targets a younger market on both Instagram and TikTok. Influencers are spreading the message, "This product helped me; it could help you too."
Conclusion
In the past 10 years, the idea of influencer marketing has become increasingly popular. It will be interesting to see what happens to these trends in the future. Forbes believes that influencer marketing will remain a popular marketing technique. The next question is, will you utilize influencers in your marketing plan?
SHARE IT!