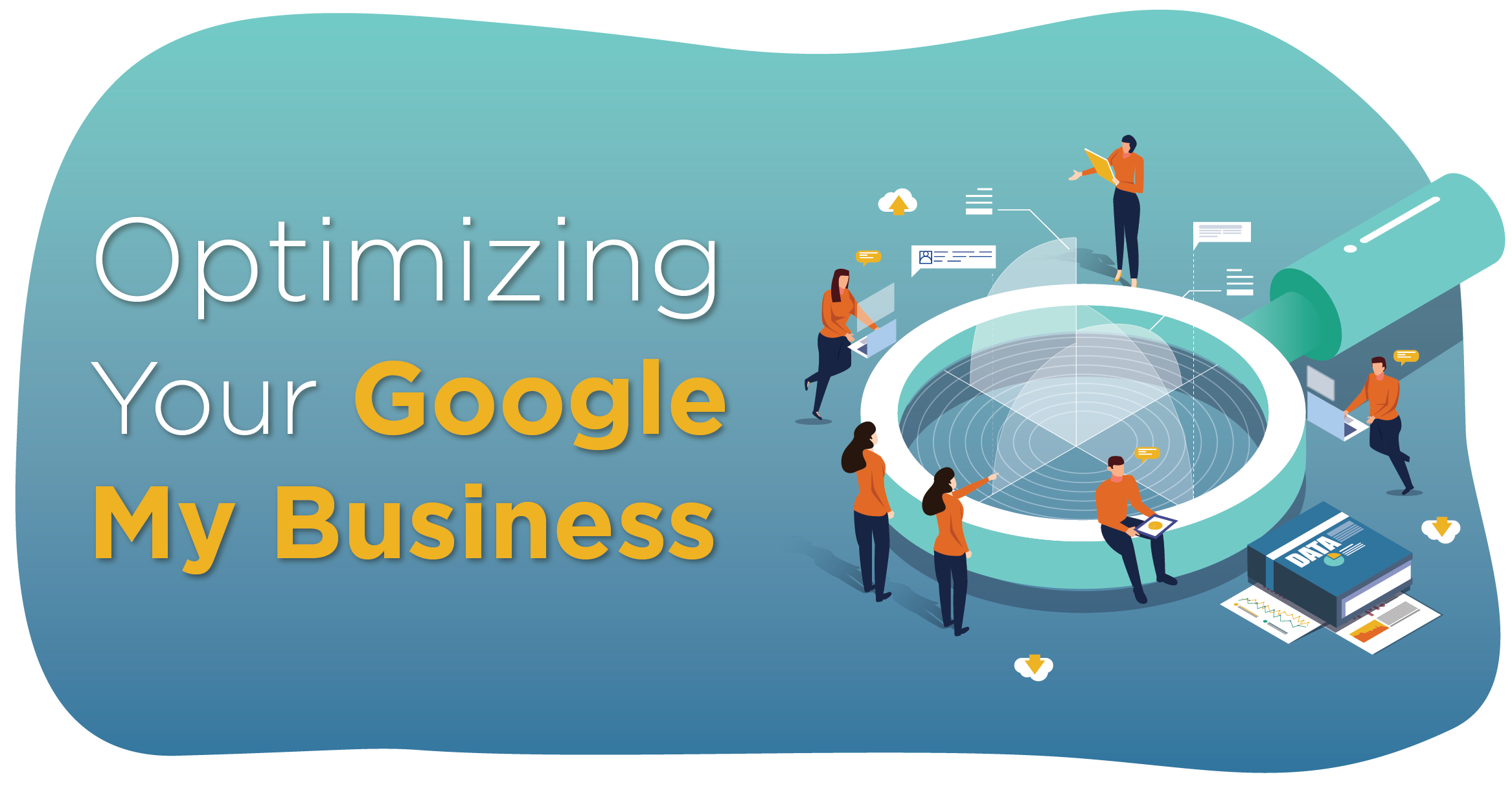 Introduction:
You probably already have a Google My Business listing. But, if you're like many businesses, perhaps you aren't taking full advantage of all it has to offer. Here's how to optimize your Google My Business to showcase your offerings, set you apart from competitors, provide the helpful information your customers are looking for, and ultimately drive more sales.
What is Google My Business?
You'll probably know just what I'm talking about after seeing the image below.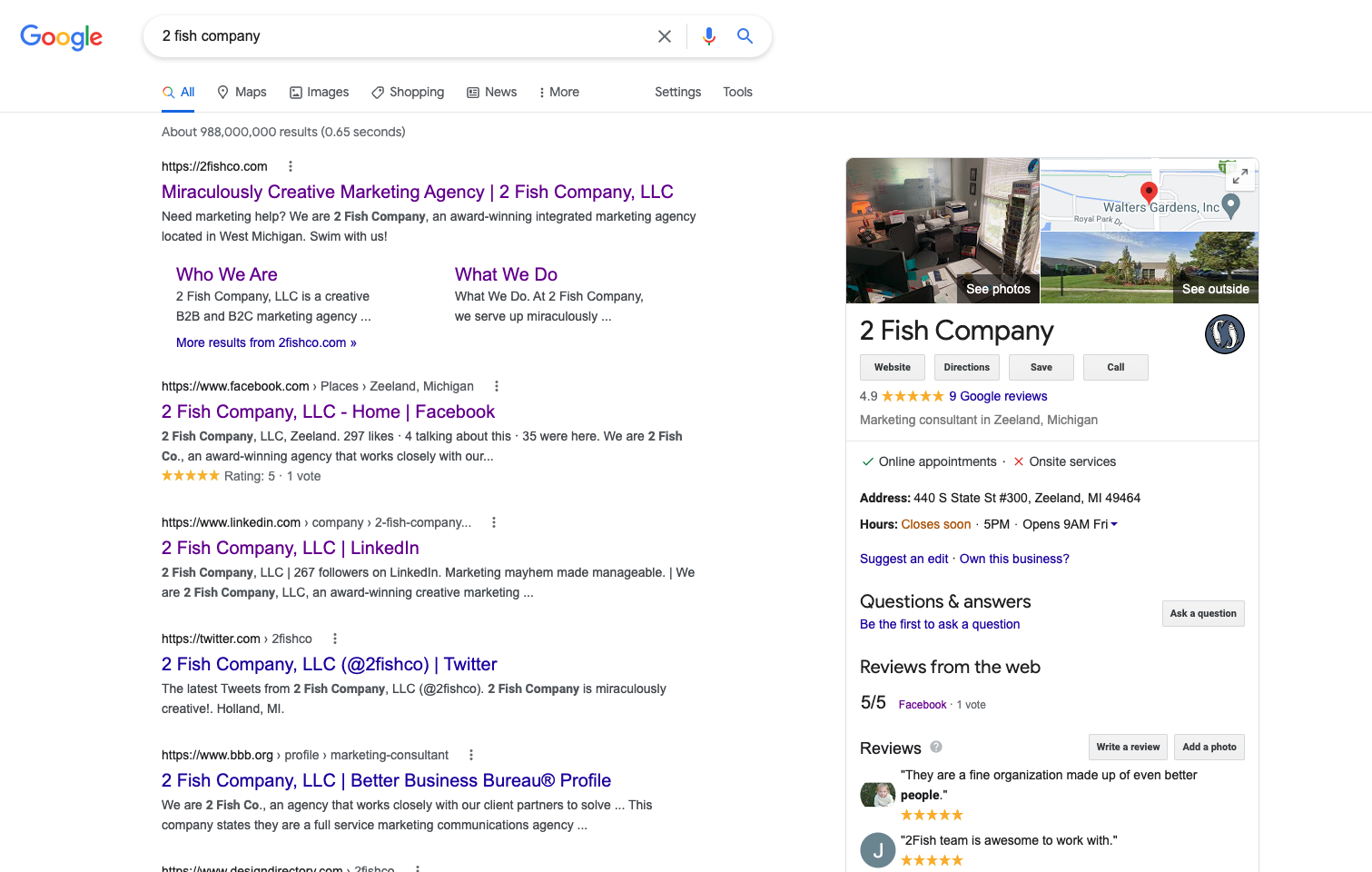 A Google My Business (GMB) listing is a free business listing that shows up in Google (on the right-hand side of the search engine results page, or "SERP"). Like other organic Google search results, a listing is served in response to relevant search queries. I took the screenshot above after searching "2 Fish Company." Our agency also popped up in the Google "local pack" when I searched a term a bit broader: Marketing agencies near me. (Google decides local ranking based on three factors: relevance [to a search query], distance, and prominence.)
If you don't already have one set up, you can find instructions for how to set up a Google My Business account here. Complete every section that you possibly can. 
Why Is GMB So Important?
81% of people search online for products and services. And Google accounts for 91.86% of all search engine traffic.
So of course you want a comprehensive business listing to appear when someone searches your company's name in Google! Or for your information to show up in the local pack when they search for your service. Both of these are made possible by having a Google My Business account.
But you should not only have a Google My Business account—you should optimize it to make sure you're getting the most out of it. What looks more inviting to searchers? A listing with (good) reviews, a description, and timely information, or one with just the basics?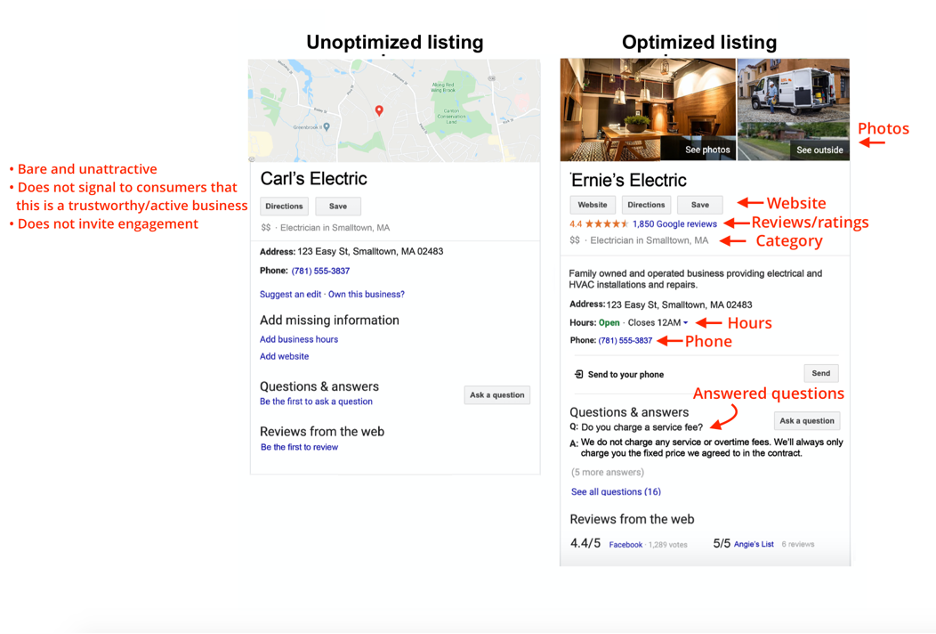 Source: https://www.wordstream.com/blog/ws/2020/06/03/google-my-business-optimization
Optimizing your GMB can also impact how Google ranks you in search results. "To maximize how often users find your business in local search results, ensure that your business information in Google My Business is accurate, complete, and engaging," says Google.
So don't do the bare minimum with GMB.
How to Optimize It
Optimizing your GMB and keeping it in good shape isn't rocket science. Here's what to do.
The Basics (NAP)
Your NAP (name, address, phone) information should always be up-to-date and consistent with your other citations. (Citations are any mention of your NAP information on the web, like in business directories, on your website, on social platforms.) NAP inconsistency can spell trouble.
Description
Your description will show up in the "From the business" section near the bottom of your listing, but it's still important. You should use as many of the 750 characters allowed as possible. Talk about what sets you apart from competitors. Use keywords as natural.
Categories
Categories have an impact on which GMB options are available for you. Certain industries, like restaurant, have specific options available in GMB. So categories are really important for Google to understand your business and give you the right GMB options. You can select up to 10 categories. Choose your primary category with extra care. Moz has a great in-depth guide to choosing categories with SEO in mind.
Attributes
Add any attributes that will be helpful for your customers to know.
Photos & Videos
Having high-quality images attached to your GMB makes it look better and can increase engagement. Plus, adding new photos regularly shows Google that you're active.
As a baseline, make sure you have your logo as your thumbnail image and that your cover photo represents your business. Then add more photos regularly. Check out Google's guide about what types of photos to include for a strong business listing.
Did you know that anyone can add photos to your GMB profile? It's true! Adding your own, high-quality photos regularly helps you make sure your listing stays looking its best.
GMB also allows for video uploads. Video is one of the most engaging mediums, so if you have some on hand or the capacity to create them, don't neglect adding them to your listing.
Products & Services
You can highlight your business offerings right in your GMB listing! It's a great way to give prospective customers a snapshot of your product catalog and also entice them to learn more. Here's a guide to adding products to your Google My Business listing.
Reviews
Reviews are an extremely important aspect of GMB listings, and they often get overlooked. Business owners typically know that they need a few reviews, but then they'll leave it at that. Review management should be ongoing. Check out our article How to Manage Reviews (and Get More!) for overall guidance on review management.
In general, know that you should be continuously asking your customers and stakeholders for reviews. Recency matters in ranking. Make sure you respond to every review, whether positive or negative.
Posts
Posts are a great way to share news, announcements, and promos. Many, maybe even most, businesses don't use them. But posts keep potential customers informed and can even spur them to action, so don't miss out! (Especially during major events like a global pandemic. Your customers want to be informed.)
Check out this great guide to Google My Business posting.
Q&A
There's a questions and answers section on GMB profiles, which can be a great tool for helping your customers learn more about you. However, just like anyone can post photos to your GMB listing, anyone can answer questions. So, it's a good idea to stay on top of questions and answer them yourself.
You should also create your own FAQs section on your GMB listing by pre-populating the Q&A section with frequently asked questions and the answers to them.
Set Up Messaging
Google makes it easy for your customers to message you right through GMB. This could be a good option for you, if you have the capacity to manage it well. Here's a guide to setting up and handling messaging. Keep these Google guidelines in mind.
Conclusion
As you can see, there are many important aspects to consider when optimizing your Google My Business listing. Doing all of the above will help you stand out from competitors and drive more customers. The key is to keep up the work. Don't stop updating your GMB listing, gathering reviews, posting, etc. Stay active and up-to-date on GMB product changes. (Google refines it often.)
And don't forget that you can keep track of your GMB performance! GMB gives lots of information directly in the platform (in the "Performance" tab), but there's a great tip for tracking web traffic from GMB (which is otherwise often attributed as "direct traffic"). Just add the UTM parameter:
?utm_source=google&utm_medium=organic&utm_campaign=gmbwebsite
to the links in your GMB (we're talking every link), and you'll be able to see in Google Analytics how much traffic is coming from Google My Business.
Now get optimizing!
SHARE IT!