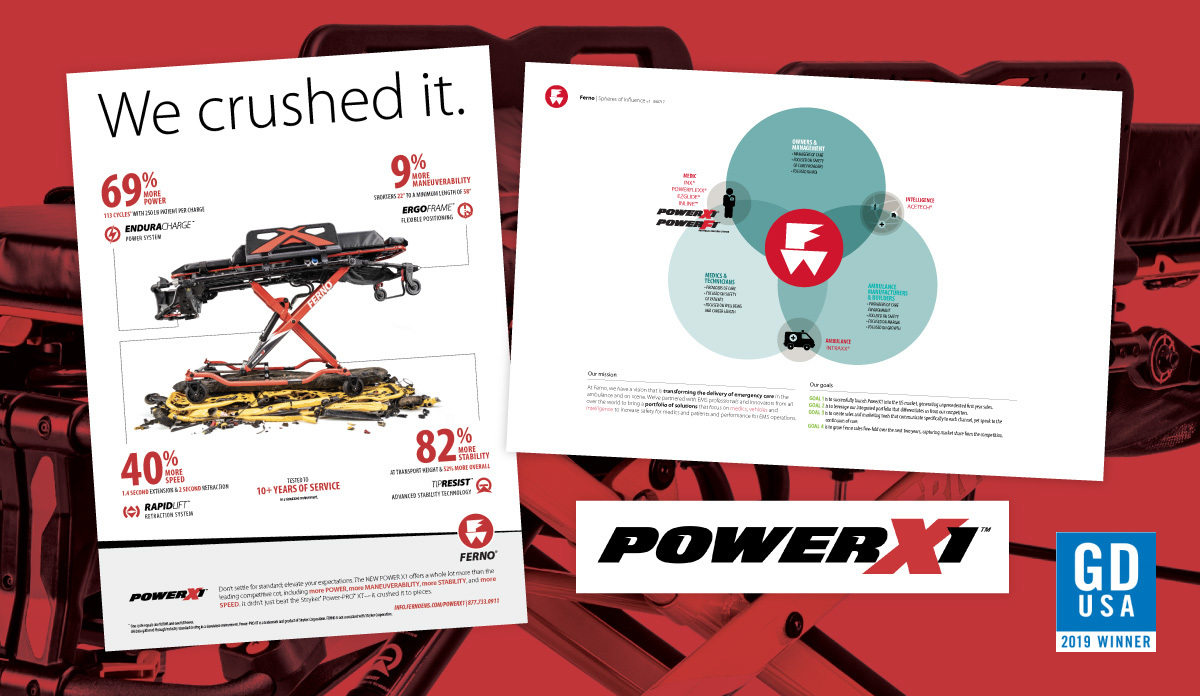 PROBLEM
FERNO is the leading global provider of emergency patient handling solutions. One of its latest innovations is the POWER X1™ Ambulance Cot. Years and many iterations in the making, the POWER X1 was designed to be the trusted workhorse of EMTs and paramedics everywhere. But before it could get into their hands, it had to be successfully launched into the market.
Exhaustive research and user testing had demonstrated that the POWER X1 was up to the extreme demands of modern EMS. But there were a few threats to the success of its launch. One, FERNO's main rival, which held much of the powered cot market share, had a well-established cot that was a direct competitor to the POWER X1, and two, there were some negative perceptions of FERNO's powered cots in the industry. The launch would be pivotal for helping FERNO not only gain back market share but also shift perceptions about its brand.
"Our pre-development research and pre-launch testing gave us a lot of confidence in our product," said Jason Wender, vice president of U.S. EMS sales & global marketing at FERNO. "But a lot was riding on a successful launch. Our fiscal year was going to be heavily impacted, and we knew that the success of the POWER X1 would be integral to helping us regain market share."
2 Fish Company has worked with FERNO since 2014, so FERNO turned to our team for product launch support.
"2 Fish Co. has a history in our space," said Jason Wender. "They have a solid process for launching capital equipment as well as expertise with our target market."
SOLUTION
"Our goal was to come out of the gate and immediately have product success," said Wender. "We knew we would have to introduce the product in a way we hadn't done—by taking a very bold stand."
We needed a creative direction that would catch viewers' attention and definitively show that the POWER X1 was superior to its competitor. So we pitched a campaign based around the data from FERNO's product testing. The EMS audience, skeptical about taking a chance on a brand-new powered cot design, would be shown the irrefutable evidence: the POWER X1 has 82% more stability, 69% more power, 40% more speed, and 9% more maneuverability than the leading competitor.
"FERNO's closest competitor has been using data as selling points for years," said Scott Millen, managing partner and creative principal at 2 Fish Company. "When test results came in on the POWER X1, we knew we had an opportunity. To be able to go into the market with a message of major improvements was a huge advantage."
We proposed creating branded technologies for the data to bring attention to it and further showcase the advanced technology of the POWER X1. The ENDURACharge™ Power System, the RAPIDLift™ Retraction System, TipRESIST™ Advanced Stability Technology, and ERGOFrame™ Flexible Positioning were born. This strategy of using branded technologies also has legs. As the technologies extend further into FERNO's portfolio of products, they'll become familiar and sought-out as critical features.
In order to make a top-tier product launch go off with a bang, a mountain of material needed to be prepared. We created comprehensive product value proposition content—covering all pertinent product information and specifications—to draw upon for product messaging. We then shaped prelaunch content for print and digital advertisements, social media, and email. Using the imagery of a cot outline, we made it clear that the new product would be a cot—to catch the industry's attention—but maintained an air of mystery to build hype and excitement.
We knew we had FERNO's blessing to be audacious with launch messaging, and we also knew that the EMS audience would appreciate it.
"The pre-hospital market is traditionally full of bold people with a great sense of humor," said Millen. "Because of that, it felt natural to poke at our competition with the same sort of messages they use—but amped up."
So, we gave it to 'em straight: FERNO had crushed the competition with this new ambulance cot.
This message was seen across social media (organic posts and targeted ads), in emails, in animated digital advertisements, and in popular EMS industry publications like the Journal of Emergency Medical Services® and EMS World®. It was also featured prominently in the launch videos we developed in partnership with MotionPossible.
Post-launch content maintained the "We Crushed It" messaging, spreading the eye-catching message far and wide. Throughout the launch and post-launch period, we leveraged many pieces of collateral that we'd created, such as product white papers based on FERNO's research, a comparison document showing how the POWER X1 stacks up against its closest competitor, and a matrix showing off the POWER X1's cross-compatibility.

Another critical aspect of our contribution to the POWER X1 launch was sales support. We updated existing FERNO sales tools and designed new pieces to empower the FERNO sales team. We also developed a launch guide that FERNO group companies around the world could leverage to make sure their own launch efforts were on-brand and effective. It was adapted for FERNO distributors as well.
RESULTS
"We've had a lot of success early on, meeting and then exceeding our financial goals," said Wender.
In fact, FERNO saw triple-digit sales growth, with return on investment (ROI) of 1330% against POWER X1 marketing spend!
This financial success has been accompanied by a shift in perception about FERNO's powered cots.
"The POWER X1 has been received very positively in the industry, which has helped us establish more credibility and confidence among buyers in the powered cot space. We've regained customers and acquired new ones."
From a creative perspective, it was clear that FERNO's audience saw and appreciated the bold launch messaging.
"We knew that the product was going to perform and exceed the competition. The strong mix of a bold statement and data helped us drive that messaging to our target markets. Our confidence showed that it's another great product from FERNO that they can believe in."
Of the experience of working with 2 Fish Co. on the launch, Wender said it was "easy." "We worked together really easily toward a common goal. 2 Fish Co's knowledge of the space and its solid process is important to us—it's what led to the development of creative that we knew would perform and get people talking."
SHARE IT!